Before we left for Kos I will admit to giving my teenagers a lecture. "Please join in!" I said to A (17) & J (14). "Please don't just sullenly mooch around by the pool or on the beach, join in with the activities and go to the Indy club. Please.". I didn't want them to waste an amazing opportunity to meet new people and learn some new things because, well because they're teenagers and those of us who have one or two of these creatures dwelling in our houses will completely understand my concerns.
After much eye rolling and sighing and a few grunts (I assume incoherent words of agreement) after we arrived at Lakitira, the two of them skulked off to Indy Club with a few backward glances at us that indicated they were doing so under duress but would at least give it a go, and for this we were very grateful - a small victory for us parents.
I needn't have worried. After an initial awkward first meeting and 'ice breaking' session, a few of the ten Indy Club aged kids on resort last week - including both of my teenagers - bonded and had a great week of watersports, late breakfasts, even later nights, and general mischief on the waterfront. By the end of the week they had both sailed every type of boat available (though I do use the term 'sailed' loosely as there was plenty of capsizing, falling in, and one or two incidents involving the boom and not ducking quickly enough...) and had also tried kayaking, windsurfing and SUP boarding along with their new friends, with varying degrees of success but lots of fun trying.
J in particular can be rather difficult to encourage out of his shell quite a lot of the time, but during our week away he really threw himself in to the activities and made a huge effort to give everything a go and I am
really
proud of him for doing so. I loved watching him out on the water and trying new things, it was a real pleasure to see him and A enjoying all of the watersports as much as their younger siblings did in
Corsica
.
The Mark Warner staff on the waterfront and the young lady, Char, who was in charge of Indy Club last week were outstanding and helped both J and A with anything and everything that they wanted to try. Instead of spending the week with their faces in their phones (though - A left hers in Greece after losing it on our last night there) using the free hotel wi-fi, the staff had them out on the water, joining in with lots of games and activities and games, and having actual real life fun with people instead of avatars and electronic devices. Taking them on an activity holiday like this was an absolute delight, and they both took away so much from it - they are both full of plans and ideas about taking
RYA courses
and wanting to work for Mark Warner in the future.

Learning all of these new skills and taking the time to get to know new people has been an enormous confidence boost for J and I am so happy that he has enjoyed it and wants to gain qualifications - we definitely plan to encourage their sailing aspirations further.
I'm this week's #LoudnProud host, and we would love to hear all about your special moments and achievements so please do share your relevant posts with us below. Feel free to grab our badge (simply C&P the handy code below), we would all very much appreciate it if you could please try to visit and comment on 2-3 others including the host post to enable this link to be successful - please do not link dump. The list closes at Midnight on Sunday, and next week will be hosted by Suzanne at 3 Children and It.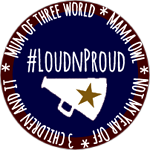 Mark Warner Holidays provided flights and half board accommodation for five people as part of the #MarkWarnerMum Ambassadorship. All opinions and words are my own.